Ex-Giants Who Were Super Bowl Winners
Viewers of Super Bowl 55 will have a front-row seat to a personal battle between two former New York Giants. Mike Remmers, the starting left tackle of the Kansas City Chiefs, is drawing the blocking assignment against Tampa Bay Buccaneers defensive end Jason Pierre-Paul.
Remmers was a Giant in 2019, while Pierre-Paul fashioned a fabulous career with the team from 2010-17, winning a Super Bowl. If you're planning to bet, the odds say that Remmers will be the ex-Giant getting his hands on the Vince Lombardi Trophy. Kansas City are the three-point favorites.
Whichever team wins, it's a certainty another former Giants player will be adding his name to the legacy of players who won the big game after leaving Big Blue.
Let's take a look back at some of the prominent players on this list.
Earl Morrall, QB (1965-67)
Morrall started a Super Bowl game, came off the bench to win another, and was a key contributor for the only Super Bowl champion to post a perfect season.
The year after he left the Giants, Morrall replaced an injured Johnny Unitas and led the Baltimore Colts to an NFL-best 13-1 record, winning league MVP honors. However, the Colts were upset 16-7 in Super Bowl III by the New York Jets.
Two years later, Morrall replaced an injured Unitas in Super Bowl V, engineering a 16-13 win over the Dallas Cowboys. Closing out his career with the Miami Dolphins, Morrall took over in 1972 when starting QB Bob Griese suffered a broken ankle.
He went 11-0 until Griese came back in the AFC Championship Game. Miami went 17-0, beating Washington 14-7 in Super Bowl VII.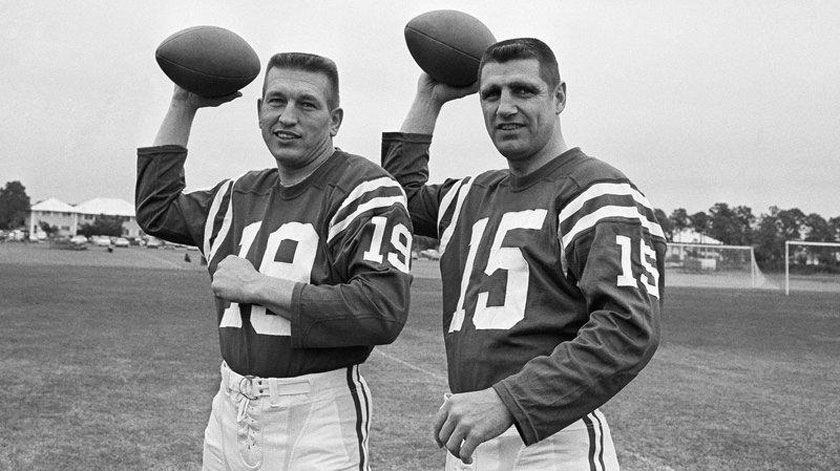 Ed McCaffrey, WR (1991-93)
McCaffrey leads ex-Giants in Super Bowl wins with three. His first came with the San Francisco 49ers. He caught one pass for five yards in their 49-26 Super Bowl XXIX win over the San Diego Chargers.
McCaffrey won twice with the Denver Broncos. He caught two passes for 45 yards in their 31-24 Super Bowl XXXII victory over the Green Bay Packers. McCaffrey snared five passes for 72 yards as the Broncos toppled the Atlanta Falcons 34-19 in Super Bowl XXXIII.
Don Chandler, K (1956-64)
Longtime Giants kicker Chandler was picked up by the Packers just in time to win the first two Super Bowls. He converted all five touchdowns in their 35-10 win over the Chiefs in Super Bowl I.
The next year, Chandler booted four field goals - still a Super Bowl record - as Green Bay dumped the Oakland Raiders 33-14.
Don Maynard, WR (1958)
Maynard's Giants career was brief. He caught five passes in 12 games during the 1958 season.
Maynard joined New York's AFL team in 1960 and enjoyed a Hall of Fame career, helping them to their Super Bowl III victory.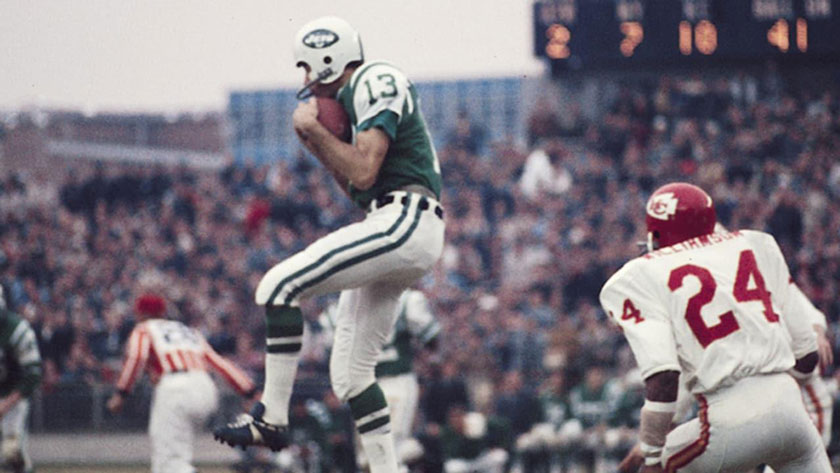 Chuck Mercein, RB (1965-67)
The Giants' leading rusher in 1966, Mercein was let go after playing one game in 1967. When the defending Super Bowl champion Packers were decimated by injuries at running back, they signed Mercein in early November.
He filled in capably until Donny Anderson regained his health in time to start Super Bowl II against the Raiders.
Ali Haji-Sheikh, K (1983-85)
Picked up by Washington in 1987, Haji-Sheikh converted all six TDs in Super Bowl XXII as Washington hammered Denver 42-10.
John (Frenchy) Fuqua, RB (1969)
Another whose Giants days were short. Fuqua carried 20 times for 89 yards in 1969. Moving to Pittsburgh, he won Super Bowls IX and X with the Steelers as a backup to Franco Harris.
It was Fuqua who collided with Raiders DB Jack Tatum, causing the deflection that led to Harris' Immaculate Reception in 1972. But he's probably best remembered for his platform shoes with the live goldfish in the heels.
Joe Jurevicius, WR (1998-2001)
Jurevicius caught four passes for 78 yards in Tampa Bay's 48-21 Super Bowl XXXVII victory over the Raiders.
Ryan Clark, S, (2002-03)
Clark started at free safety and made five tackles in Pittsburgh's 27-23 Super Bowl XLIII triumph over the Arizona Cardinals.
Lomas Brown (2000-01)
Brown started at left tackle for the Giants in their 34-7 Super Bowl XXXV loss to the Baltimore Ravens. In 2002, his farewell NFL season, Brown signed with Tampa Bay and finally won himself a Super Bowl ring.